Constitutionally a secular state, India is a diverse country with marked religious divides. Recent years have seen growing international and domestic concerns over multiple forms of discrimination affecting persons belonging to religious and linguistic minorities, and a growing trend of violence against members of religious minorities. There are similar worries over discrimination and oppression faced by women and girls. The endurance of these ills goes against the country's obligations under a raft of United Nations human rights treaties including the Convention on the Elimination of Discrimination against Women (CEDAW) ], the International Covenant on Civil and Political Rights and the International Covenant on Economic, Social and Cultural Rights (ICESCR).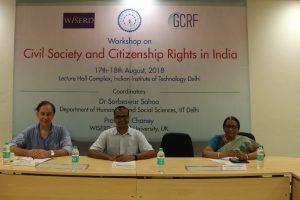 In order to explore these issues in detail new research led by Professor Paul Chaney (WISERD) and Professor Sarbeswar Sahoo (Indian Institute of Technology Delhi) is exploring civil society organisations' views and experiences of the promotion of human rights, good governance and social justice in India. The research is funded by the Academy of Medical Sciences, Global Challenges Research Fund. We have been undertaking qualitative interviews and participant observation with NGOs concerned with religious freedom and gender equality. This included a recent two-day WISERD-IIT Delhi joint civil society Research Workshop held in New Delhi on August 17-18 (pictured). We can now share some of our emerging findings.
The NGO accounts gave rich detail supporting concerns over rights violations expressed by the United Nations and other observers. In this, the first of a series of blogs, we illustrate the intersection of gender equality and religious freedom with reference to one issue: the growing phenomenon of bride trafficking.
The civil society representatives highlight the prevalence of bride trafficking. In particular, trafficked girls from Assam and Bengal, and Bangladesh. Our research participants spoke of how non-governmental organisations are acting to rescue trafficked women. Of these, a large percentage belong to the Muslim community. They also warned that it is over-simplistic to apportion blame on this issue to just one religious community because, to varying degrees, it affects most religious groupings. The problem is driven by a grave rights violation, female foeticide.  According to the 2011 Census, the child sex ratio (measured as number of females per 1000 males) is within the normal natural range in all eastern and southern states of India, but significantly lower in some northern states such as Uttar Pradesh, Punjab, and Haryana (912, 895, and 879 respectively). For the western states of Maharashtra, Gujarat and Rajasthan 2011 census reported a sex ratio of 929, 919 and 928 respectively.
The motives for female foeticide are grounded in history and culture. Traditionally, male children have been preferred because they provided manual labour and succession in the family lineage. The selective abortion of female foetuses is most common in areas where cultural norms value male children over female children for a variety of social and economic reasons.
Amongst the NGO accounts gathered for this project, a section of the discussion centred on developments in the Mewat region; an area which is dominated by Muslims. NGOs warned that, in seeking to address the issue of bride trafficking, government bodies often behave in a communally-biased way when dealing with NGOs. They also underlined that a key challenge for NGOs is how to raise awareness of the issue of bride trafficking – and, crucially, the need for civil society to participate in the formulation of/ and be critical of the government's policy response.
NGOs' work across states in northern India, ranging from Assam in the east to Madhya Pradesh in the west, revealed low public policy awareness on the issue. Just two districts had some knowledge of the Indian government policies on bride trafficking. This points to a classic government policy implementation gap. This, the research participants argued, points to an urgent need to ensure that civil society is aware and mobilized to tackle the issue of bride trafficking in order to uphold the citizenship rights of all women/ girls.
Future blogs will discuss some of the other project findings.
Further updates on the project can be found at www.wiserd.ac.uk and http://www.hss.iitd.ac.in/