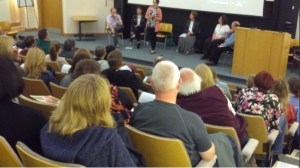 Public engagement used to be something I shied away from but in the past month I have taken part in two public engagement events to present the work of the IDEAL study and even discussed them on BBC Radio Wales.  In the past I worried about how to translate research to the public in a meaningful and engaging way.  Working on the IDEAL study, which explores what it means to live well with dementia, has helped me overcome these concerns as the study gets to the heart of the issues that affect people living with dementia.   The first of these events was a PublicUni talk at Chapter Arts Centre; the second was a presentation at a sciSCREEN event, held at Cardiff University.
When asked to take part in the PublicUni project, I was told that the presenter should deliver a ten minute, 'stand up' style talk that is entertaining and engaging.  At first, this was a pretty intimidating prospect; entertaining and academic are not usually words you find in the same sentence.  Aside from being a bit scary, it was also a liberating experience.  Writing a talk about your research in the same way that you might tackle crafting a best man's speech was a challenge – especially knowing that your audience is more likely to be sober – but it was also really good fun.  The sciSCREEN event was different in tone.  Forming part of Dementia Awareness Week with The Alzheimer's Society, the organising team chose to show the Canadian film 'Away From Her' which is about a couple's experience of dementia.  Following the film, a panel of researchers discussed their work in the context of the film.  For me, the film's story and characters acted as the perfect conduit through which to capture the audience and bring them inside the themes of my research.
Involvement in these two events has confirmed for me why a continued dialogue with the public is important and how it can improve our work as academics.  The wheels of academic publishing and dissemination turn painfully slowly and the responses we get to our work tend to be highly protracted (and, let's face it, are often critical).  Events like these facilitate a direct response to our research that is often lacking in the world of academia and does a great deal to help affirm the meaningful and positive social contribution that we, as researchers, can make.