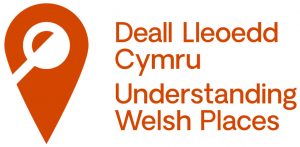 A shortage of robust, nationally consistent evidence at a town level has been a longstanding problem in the UK. Without evidence it is difficult for town stakeholders, such as planners, town councils, third sector organisations and community groups, to determine local needs, evaluate the effectiveness of town management strategies and to learn from past success.
In 2017, research published by Carnegie UK Trust and the Wales Council for Voluntary Action (WCVA) highlighted these issues for towns in Wales. As part of their recommendations, they suggested that the Welsh Government should provide a data and evidence base for Welsh towns in an accessible, easy-to-use format. WISERD won a competitive tender to design and develop a fully bilingual website to provide data and analytical metrics to fill this gap.
Launched in October 2019, Understanding Welsh Places is the resulting data resource providing nationally consistent, robust data for places in Wales.
What information is available for each place?
The website features 308 Welsh places with a residential population of 1,000 or more, providing a description of each place. For 193 of these places, with populations of 2,000 or more residents, it also provides detailed data, covering:
1. Community assets
These are entities which are beneficial to the local community, including numbers of schools, hospitals, jobs, shops and green space, and travel time to a variety of amenities by both private and public transport.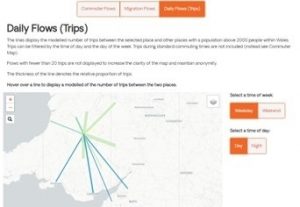 2. Population flows
These show the movement of people from one place to another, including flows across the Wales-England border. Understanding Welsh Places' flow data shows commuting patterns, migration patterns and daily 'trips' derived from mobile phone records.
3. Community characteristics
These include demographic and socio-economic characteristics of the local community, including metrics showing age distribution, ethnicity, national identity, economic activity and measures of deprivation.
What about places with less than 2,000 residents?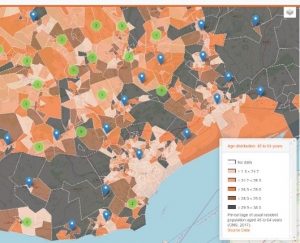 If a place you are interested in is not large enough to feature amongst the 193 places, you can still view the data using the Neighbourhood Maps tool. This maps data for small building-block geographies for the whole of Wales, allowing access to the data for areas outside of the 193 places. This also allows the examination of patterns within larger places, such as variations between different parts of Cardiff.
Classifying and comparing places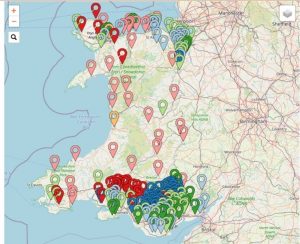 The Understanding Welsh Places website uses two bespoke classifications of places in Wales.
Community characteristics classification
The community characteristics classification consists of 16 distinct types of place based on settlement size and the most prevalent demographic and socio-economic traits. Comparisons of data between similar places can be made using website's Comparison tool, offering opportunities for collaboration, and sharing of successful strategies, between stakeholders of places which are similar in nature.
Inter-relationships assessment
The inter-relationships assessment indicates how reliant one place is on another for providing community assets. For example, does a place have enough hospital beds, general practitioners or school places to cater for its residential population, or does it need to rely on other places to provide these assets?
As part of the inter-relationship assessment, places are categorised into one of seven categories. These range from dependent on other places, through interdependent, to independent. As well as the broad classification, Understanding Welsh Places also provides access to the individual scores for each type of asset, allowing stakeholders to see where their place may be self-sufficient, and where it may be reliant on other places.
How has Understanding Welsh Places been used?
Since its launch, Understanding Welsh Places has received over 10,000 visits, being used by stakeholders to provide an evidence-base to support decision-making.
For example, a Welsh Town Council has used the data, alongside their own local knowledge, to better understand the needs of the local community, helping them allocate funding to the projects that would be of most benefit.
When talking about their use of Understanding Welsh Places, the Community Development Officer said:
If we are talking about spending public monies, we need to be getting it right. It's not just somebody sticking a finger in the air and saying 'I think'. We can say, 'well, actually the data is showing us that we are in the right ball park.
Understanding Welsh Places could also play a significant role in Cardiff University's new Social Science Research Park (SPARK). SPARK aims to encourage greater collaboration between social science research (including the work of WISERD) and our partners in the public, private and third sectors to address our most complex societal challenges. We recognise that an important part of this is how we support the evidence ecosystem in Wales, and Understanding Welsh Places provides a much needed digital platform to support this work.
Our recent webinar offers more detail on how to use the website.
Understanding Welsh Places is funded by the Carnegie UK Trust and Welsh Government and managed by the Institute of Welsh Affairs (IWA). Data analysis and web development have been undertaken by the Wales Institute of Social and Economic Research and Data (WISERD). The inter-dependence model has been developed by the Centre for Local Economic Strategies (CLES).