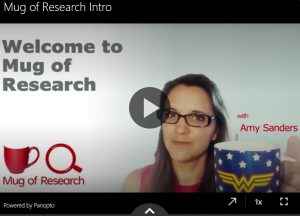 Dr Amy Sanders of Aberystwyth University has created a series of bitesize videos aimed at practitioners that share her research on the relationship between the voluntary sector and Welsh Government in the time that is takes to have mug of tea.
Amy's background in the third sector has always been important to her during her research and she considers how her research impacts the third sector and the people who work within it. However, she was mindful that she needed to share her research findings in a way that suited busy elite professionals working in the field.
Mug of Research was launched by Amy as a way of sharing her research in an accessible format for any policy actors interested in the third sector or equalities. Amy said "I wanted to make research easy to consume for my participants, so I made Mug of Research. They liked it. So, now I'm making it public".
The videos were released each weekday from 1 November to 10 November on Amy's Twitter @AmySandersA1, the tweets can be found through #MugOfResearch.
Further information about Mug of Research can be found in this WCVA article.