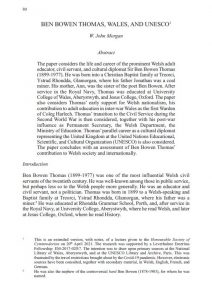 A new paper by Professor W. John Morgan, Honorary Professor, School of Social Sciences, and Leverhulme Emeritus Fellow, WISERD, at Cardiff University, considers the life and career of the prominent Welsh adult educator, civil servant, and cultural diplomat, Sir Ben Bowen Thomas (1899-1977). Professor Morgan was Chair of the United Kingdom National Commission for UNESCO, 2010-2013.
"Ben Bowen Thomas was undoubtedly one of the most influential public figures in twentieth-century Wales. A prominent adult educator and later civil servant, he had a profound effect on education policy recognising its fundamental importance for Welsh national identity within the United Kingdom. Again, Thomas' prominence as a cultural diplomat to UNESCO enabled him to contribute to global intellectual cooperation and development. In both spheres, he drew on Welsh traditions of Christian social commitment and idealist internationalism by which he had been shaped. He did so as a senior member of the British governing establishment. This needs to be noted and appreciated, especially when Ben Bowen Thomas is compared with those who are better known but were less substantial in their contribution to Welsh society." – Professor W. John Morgan
The paper has been published in the annual Transactions of the Honourable Society of Cymmrodorion, Vol. 28, 2022. The Honourable Society of Cymmrodorion is Wales' oldest scholarly and learned society, founded in 1751.