The team of researchers leading WISERD's foundational economy work has contributed to a COVID-19 report, which makes a case for renewal of the foundational economy, after the immediate public health crisis is over. The crisis demonstrates the importance of the foundational economy, that part of the economy which produces essential goods and services consumed by all (regardless of income and status). These goods and services support everyday life and therefore can't be shut down.
'What Comes after the Pandemic?' has been written by the Foundational Economy Collective, an interdisciplinary group of academic researchers from across Europe. Working together to develop a new way of thinking that challenges mainstream ideas about what economic policy should be, their focus on the foundational economy includes health, care, education, housing, utilities and food supply. These basic goods and services are a driver of welfare and the basis of citizenship.
The new report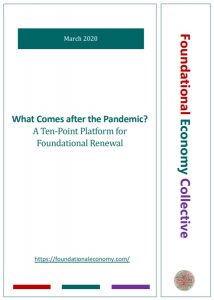 details a ten-point platform for foundational renewal. A summary of the ten points that could be taken up by politicians, interest groups and civil society activists are as follows:
Start the extension of collective responsibility for foundational basics with health and care
After health, housing and energy are the other immediate foundational priorities
Food is altogether more complex but needs tackling
Introduce social licensing i.e. regulation which imposes social and environmental obligations on all corporate providers of foundational services
Reform taxes on income, expenditure and wealth to greatly increase the capacity of government to raise revenue
Disintermediate investment from pension funds and insurance companies so that it goes directly into provision of material infrastructure
Shorten fragile long supply chains in foundational commodities while recognising the futility of local autocracy
Every city, town and peripheral rural area should develop a live/work transition plan within nation state and EU enabling frameworks
Rebuild technical and administrative capacity at all levels of government
Finally, the European countries need to accept some responsibility for completely inadequate foundational systems like health care in adjacent regions
The report states: "The platform proposals for better foundational provision must respond not only to the Covid-19 crisis but also to the nature and climate emergency and to the failure of social cohesion."
Professor Ian Rees Jones, WISERD Civil Society Centre Director and member of the Foundational Economy Collective, said: "The immediate concerns of the Covid-19 crisis are the protection of human life and the social and economic security of citizens. But it is clear that the crisis has also exposed the structural weaknesses in our health and social care services that are directly related to the austerity policies implemented in response to the economic crisis of 2008.
"This report from the Foundational Economy Collective looks to a future beyond the present crisis to propose ways to renew those areas of social and economic life, including our health and social care services, that form the basis of the foundational economy."
Foundational economy, citizenship and new forms of common ownership
This research project, part of WISERD's new ESRC Centre, Civil Society: Civic Stratification and Civil Repair, explores place-based solutions and experiments with social mechanisms and new institutional forms that provide the material basis for citizenship. It looks at how foundational economy approaches can promote civic gain and address contemporary social and economic policy concerns at regional and local levels, focusing on food, care, housing and the environment.