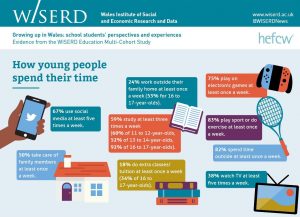 Our recent event, Growing up in Wales: school students' perspectives and experiences, explored the latest findings to come out of the WISERD Education Multi Cohort Study (WMCS) survey data. 
Over the past seven years, the WMCS has made an important contribution to understanding the lives of young people in Wales, by conducting an annual survey of over 1,000 young people as they progress through school. The longitudinal nature of this study is key to seeing how young people's views change over time.
Much of the data we've been collecting is around educational experiences, and schools from across Wales are involved. We've gathered young people's views on their teachers, school trips, why they've been asked to leave the classroom and why they've been given a detention. We also asked about the GCSE subjects they've chosen and their awareness of vocational education.
We've also asked them about growing up in Wales more generally, including their awareness of and engagement with the Welsh Youth Parliament, their views and experiences of money and gambling, 'technoference' and how they spend their time outside of school.
The event provided an opportunity for practitioners, third-sector organisations and policymakers to discuss the latest findings with the research team, and to identify key areas for further research.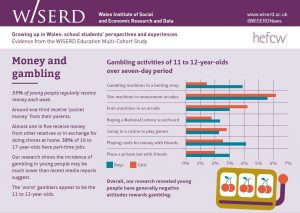 Professor Sally Power, who leads the study, said: "The WMCS is an invaluable resource enabling us to tap into the views and experiences of Wales' young people as they progress through school. We're able to compare how the views and experiences of one cohort changes as they get older, and to compare across cohorts. This provides a unique glimpse into their lives, and one which should be of interest to all those concerned with the current wellbeing and future prospects of young people in Wales."