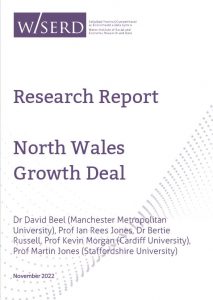 As part of WISERD's ESRC-funded Civil Society Centre research programme, a team of WISERD researchers have published a new report on the process of developing and implementing the North Wales Growth Deal (NWGD), based on observations from a series of interviews with stakeholders between July-December 2021.
Fifteen remote interviews were conducted by three researchers: Dr David Beel (Manchester Metropolitan University), Professor Ian Rees Jones and Dr Bertie Russell (Cardiff University). A range of potential participants were identified in dialogue with Alwen Williams, the Programme Director of the NWGD, and included lead officers for economy, regeneration and development and local authority leaders.
The report sets out the background to the NWGD and gives an insight into the expectations of what it aims to deliver. It also outlines stakeholders' concerns and the perceived challenges in meeting these. A central focus of the report is a critical dialogue with participants as to the ways in which foundational economic thinking, can find a place within the economic development strategy of North Wales.
The research points towards the benefits of undertaking a strategic refresh of the NWGD and the report observes four opportunities for action at this early stage of implementation:
Consider a strategic refresh of the North Wales Growth Deal
Develop a revised decision-making matrix for the reallocation of capital funding
Revaluate the existing portfolio of projects that have not yet received Full Business Case approval
Explore possibilities to innovate in realising social value, leveraging capital investment so to allow projects to 'touch' unwaged foundational areas
Dr David Beel said:
The report highlights the way in which North Wales, as a predominantly rural region, is wrestling with a variety of progressive development ideas, such as the foundational economy. It shows that integrating such ideas is not an easy or overnight process but one that requires considerable thought, planning and vision. The report therefore highlights the tensions of developing this nascent economic agenda within the context of competing UK and Welsh Government and local policy trajectories.
These interviews were conducted as part of a wider research project focused on the role of regional economic development policy in supporting the strengthening of the Foundational Economy. Read more.