People working and volunteering in Welsh towns and communities will benefit from a new resource to help them identify opportunities in their areas. 
Understanding Welsh Places is a bilingual website built by a team of researchers at WISERD and coordinated by the Institute of Welsh Affairs. It presents information on the economy, demographic make-up and local services of more than 300 places in Wales in a quick and easy format. Additional data processing and analysis have been provided by the Centre for Local Economic Strategies.
Funded by the Carnegie UK Trust, and the Welsh Government, Understanding Welsh Places will be a vital tool for community groups, planners and policy makers to understand towns in greater detail. This will enable more targeted support for communities across Wales.
The statistics will provide information on a wide range of topics including the number of school places, shops and charities in the area, employment, commuting distances, national identity, and the number of Welsh speakers.
As well as exploring data about individual places, people can compare towns and find out about their place's relationship with nearby towns across Wales. The aim is to encourage people to build relationships across community boundaries, to share ideas and to better understand the relationships between towns.
While other data websites present information at a local authority level, Understanding Welsh Places allows people to analyse statistics of every place in Wales with more than 2,000 residents.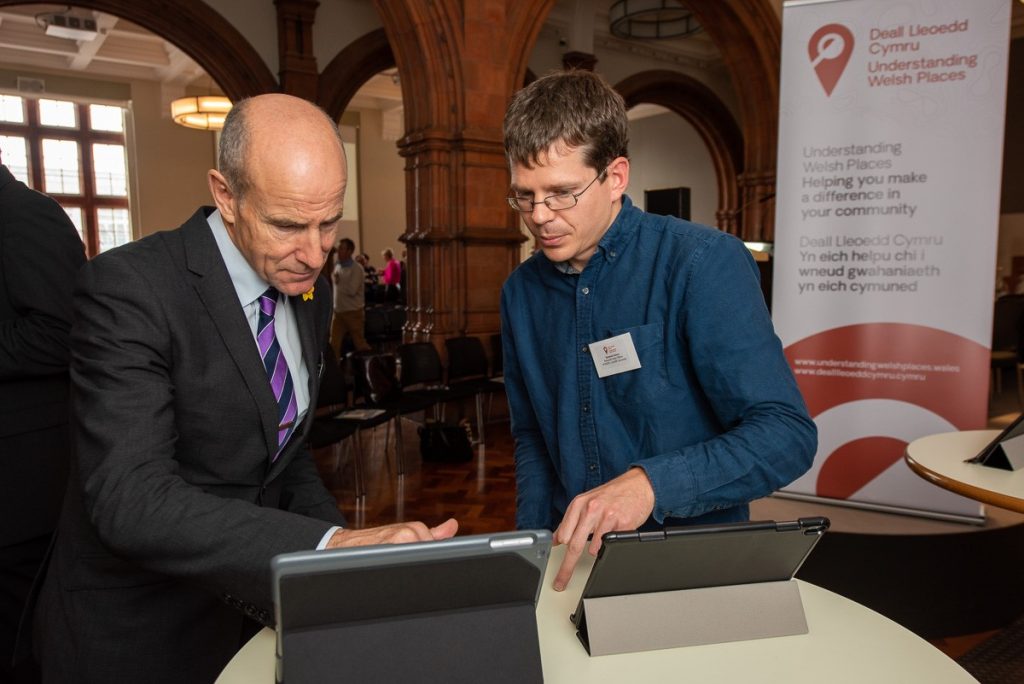 Leading the WISERD team is Scott Orford, Research Data Co-ordinator and Professor of GIS and quantitative human geography at Cardiff University. Scott said: "The Understanding Welsh Places website complements our own WISERD DataPortal and links to our programmes of work around Knowing Localities, Civil Society, and Data and Methods. The website will be an important resource for WISERD and other researchers who require key comparative statistics about places in Wales."
At the launch of the website in Cardiff Bay yesterday (Tuesday 8th October), Deputy Minister for Housing and Local Government Hannah Blythyn said:
"I was pleased to attend this event today and have an opportunity to view this new impressive website. Its capability to aggregate data on more than 300 places and present it in an easy-to-use format is no mean feat. Too often data and statistics can act as a barrier to learning, so it is refreshing to see such an engaging and interactive tool.
"Supporting town centres is the cornerstone of our regeneration activities. Our towns have inspiring histories and their own story to tell.
"While we should celebrate the past, it is important we don't live in it, as nostalgia won't turn things around. We want our towns to have great futures. The role and purpose of towns is changing and we must support them to reinvent themselves so that they are fit for the 21st Century.
"We want more people to be 'going into town'. We want to create an experience, to make towns places where people want to be. So, it's essential that we support our town centres to become more diverse and sustainable.
"Listening to the people here today has reinforced my belief the solution lies in supporting these many efforts to diversify, evolve and adapt. We want to work with those who have a passion in our communities to drive forward change."
Auriol Miller, Director of the Institute of Welsh Affairs, said, "Too often, town communities are overlooked by public policy and this is because of the lack of data available at that level. Understanding Welsh Places will enable people living in these communities to better understand their area and ensure that local planners, activists, businesses and charities have the right information. We're adding even more to the website over the next year, such as extra environmental data and information about local cultural activity, and we're excited to see the positive difference this brings to communities across Wales."
Jennifer Wallace, Head of Policy at the Carnegie UK Trust, said: "How we live together in towns matters not only to our own wellbeing, but also to our community wellbeing. This new platform recognises that towns have varying needs and therefore require different services and resources. Each town has a unique identity, and this is how we need to think about places when we design services, invest, and innovate. We hope that the new data presented will help those in towns plan for their future and build relationships with similar places across Wales."
The new website can be accessed at www.understandingwelshplaces.wales and a Welsh language version is available at www.dealllleoeddcymru.cymru.