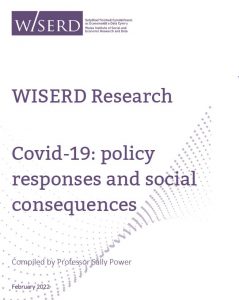 The arrival of Covid-19 to the UK in early 2020 led to rapid and far-reaching changes in the way we live our lives. 'Lockdown' led to school closures and working from home became the norm for many workers. And while most shops and businesses closed, 'key' workers and services experienced unprecedented pressures.
For the last two years, WISERD has adapted its research programme to address the challenges posed by the arrival of the Covid-19 pandemic. This re-orientation has entailed two main
strategies. Firstly, where relevant, we have drawn on those existing research findings that can be used to inform the likely impacts of the pandemic. Secondly, we have repurposed ongoing and planned research projects to address the consequences of the pandemic on key activities and sectors.
Our report, 'Covid-19: policy responses and social consequences', provides a brief overview of WISERD's research across a range of areas, including on education, work and labour markets, health and wellbeing, and welfare. Not surprisingly given that WISERD hosts the ESRC Civil Society Centre, we also examine the current impact of the pandemic on civil society, as well as exploring how civil society might help shape a brighter post-pandemic future. While the ESRC funding supports most of the research reported, we also include findings from projects funded by the European Commission, the British Academy, the Welsh Government, the Leverhulme Trust, Carnegie UK Trust, Institute of Welsh Affairs, and Sêr Cymru.
As always, our research draws from across a range of disciplines and methodologies. The projects discussed in the report are informed by economic, sociological, geographical, and
social policy perspectives. Methodologically, in addition to the extensive secondary analysis of administrative data, the complex use of geographic modelling and longitudinal surveys, we
have undertaken policy analysis and smaller scale qualitative projects with community groups. To maximise the usefulness of our research for informing current challenges and future possibilities, we have engaged in ongoing dialogue throughout the pandemic with a wide range of policymakers, professionals and civil society stakeholders.
Because of the need to disseminate findings quickly, many of the sources cited are infographic materials, reports and blog posts, as peer-reviewed articles take a long time to be published. We also report on research which is currently underway, and for which Covid-relevant findings will be available in the future.