Research Questions
In what ways are additional learning needs being considered in the process of curriculum development?
What are the opportunities and challenges of curriculum development for ALN learners?
How far is there perceived alignment between curriculum reform and the ALN transformation programme?
Aims
The primary aim of this research is to investigate how ALN are being considered in the development of the new curriculum for Wales, with particular reference to learners in mainstream education.
A secondary aim is to explore the alignment of the current reform of the ALN system and the development of the new curriculum for Wales.
Background
Inclusive education is seen as more than differentiation and involves teachers' understandings of the factors that produce differences between learners, which in turn depends on teacher beliefs, attitudes and values (Kershner 2015). The challenge of professional development in being able to meet individual needs is to bring about change in the interaction between what teachers know, believe and do (Florian 2008) (see Figure 1). Educational discourses, for example, in relation to what is learning and the nature of individual learning needs, serve as a strong influence on teachers and are a source they draw on in making judgements about learners and what they need (Ellis and Tod 2014; Winch et al. 2015). The new curriculum for Wales, A Curriculum for Life, uses a discourse of equity, equality of opportunity and inclusiveness, presenting good practice as that which supports the learning of all pupils (Donaldson 2015; Welsh Government 2015a). The aim of this project is to explore how additional learning needs are being considered in the development of the new curriculum and what discourses, values and ideas are being drawn upon by key professionals. The focus of the project is on the mainstream sector where most ALN learners are educated.
Sample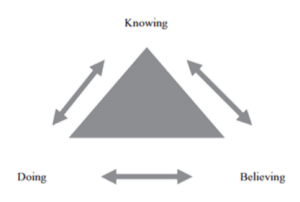 Policy leads and inclusion leads involved in curriculum development and/or ALN reform. Practitioners in two pioneer schools (one primary/one secondary) each with a Professional Learning Pioneer (N=8).
Method 
Individual semi-structured interviews are being carried out currently. Interview schedules have been drawn up for policy leads and for pioneer practitioners.
Areas explored in interview include: participant role, if any, in the development of the curriculum, views on ALN and pedagogy, ALN and identification, ALN and progression, and on teacher knowledge, innovation and accountability under new arrangements. Participants are also asked about their views on alignment between curriculum reform and the transformation of ALN. Interviews will be fully transcribed and analysed thematically.