"Just think about it, next year, both the Durham Miners' Gala and the Notting Hill Carnival will take place in seats represented by Conservative MPs" Michael Gove, December 2019.
The Durham Miners' Gala, established in 1871, is the largest annual gathering of trade unionists in the UK. Despite the last coal mine in County Durham closing in 1994, every July tens of thousands of people drawn from the county's pit villages, the North East and beyond, process for hours through the narrow city streets. Accompanied by marching bands, those attending file behind colliery and union banners in an expression of working class camaraderie. The idea that such an event could take place within the constituency of a Conservative MP would certainly be food for thought.
Since Michael Gove, the Conservative MP for Surrey Heath, made that remark ahead of Boris Johnson's victory speech in London on the night of the Conservatives' election triumph, those who did think about it realised that Mr Gove did not have an accurate grasp of electoral geography within County Durham. Whilst the constituency of North West Durham was taken by the Conservatives, Durham City and North Durham will remain under the control of Labour. The Miners' Gala will therefore continue to take place on Labour soil for the time being.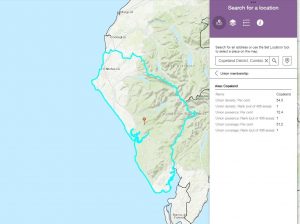 What is less well appreciated is that the most unionised part of the UK was already represented by a Conservative MP ahead of yesterday's election. Data from WISERD's UnionMaps service demonstrates that the most unionised place in the UK is Copeland in Cumbria. Partly located in what was the Cumbrian Coalfield, Copeland has long been the home of the Sellafield nuclear processing site, with its highly unionised workforce.
Having been held by Labour since 1935, Copeland returned a Conservative MP in 2017 – a result which some attributed to Jeremy Corbyn's stance on nuclear power. Last night, both the highly unionised neighbouring constituencies of Barrow-in-Furness and Workington, also returned Conservative MPs. Whilst Mr Gove did not demonstrate an accurate understanding of which parts of Durham were now under the control of the Conservatives, the strong relationship between voting Labour and being a member of a union is being tested.
The data from WISERD's UnionMaps service reveal the fascinating differences in union membership that exist between different parts of the UK. Why not find out how high union membership is in your area? Further information about our research on trade unions can be found on our website.