In early November 2022, we were delighted to welcome Professor Charles Sabel from Columbia Law School as WISERD international visiting scholar. Professor Sabel joined us in sparcIspark for a week of events and discussions about his work on experimental governance.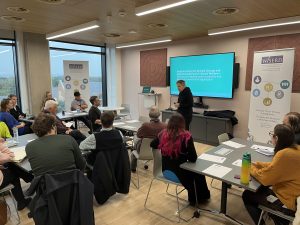 The visit kicked off with an intensive workshop addressing "Industrial Policy for Climate Change and Customized Services in Social Welfare – Two crises of learning under uncertainty and the rise of a new form of organization". Professor Sabel gave an overview of the theoretical underpinnings of experimental governance before setting out its application and relevance to two key areas of policy: climate change and welfare services.
Using case studies from different countries, he brought to life the relationship between experimentalist innovation at the frontier and local forms of place-based experimentalism. The workshop was attended by a broad range of people from the University and policy sectors who participated in a lively and animated discussion of the issues raised and their relevance to developments in devolved settings and across different economic and social policy sectors.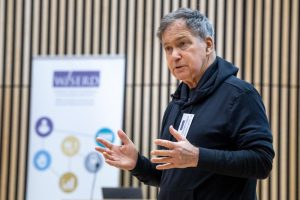 Following this, Professor Sabel gave a public lecture in the sparcIspark auditorium on his new book with David Victor entitled 'Fixing the Climate: Strategies for an Uncertain World'. Speaking to a large audience from a wide range of academic, policy, and third sector organisations, he contrasted successes and failures in the climate policy arena to develop an argument that the radical transformations required to address net zero should be based on experimentalist organization and experimentalist deliberation. In the face of uncertainty, the benefits of such an approach are to be found in (i) peer review that reduces hierarchical structures (ii) a move among experts towards enabling deliberation (iii) virtuous feedback loops that lead to further reform and (iv) front line workers leading and instigating change.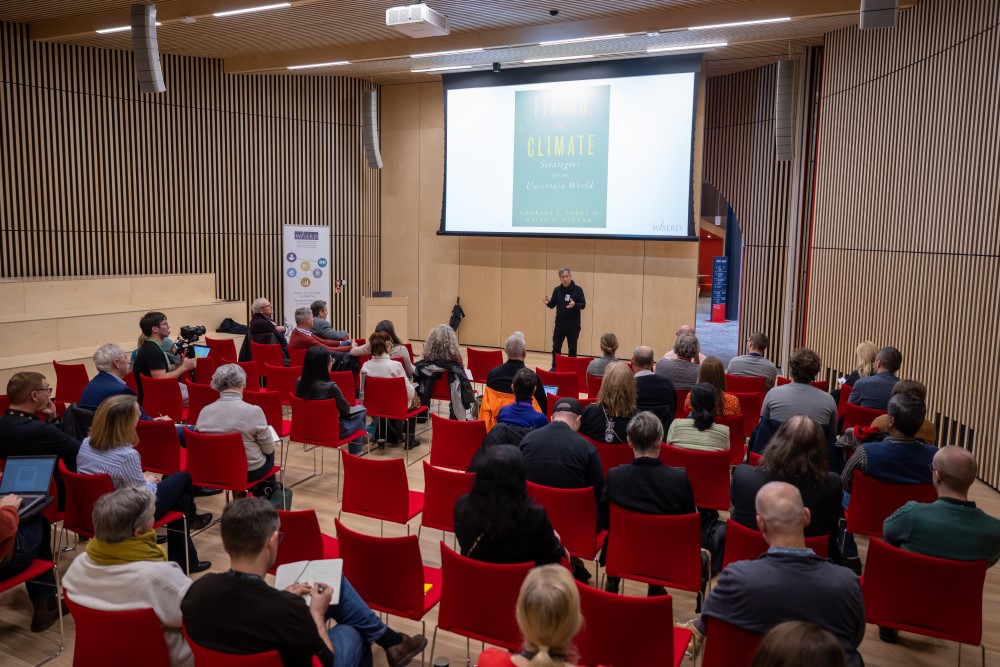 Drawing on examples of success and failure from the Montreal Protocol to the Paris Agreement, he presented a case for the possibilities of emerging institutions where ground-level challenges correct determinations made at higher levels which, in turn, influence conditions on the ground. In this sense, they are neither top down nor bottom up. But in contrast to neo-liberal market-led solutions, this decentralized decision-making is steered by processes of deliberation.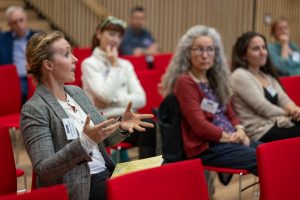 Expanding on this theme, and drawing on the pragmatism of John Dewey, he argued that experimentalism is based on the exchange of reasons that can change convictions and preferences through communicative deliberation. Technical innovations at the frontier therefore (for example, electric cars) need to be linked to innovation in place (for example, integration of renewables into the grid) with priority given to the effects of change on local communities. There was a sparkling discussion among the audience covering issues such as the potential of COP27 as a catalyst for change, the application of Dewey's thought to other areas of policy, the capacity of small nations to play a part in change, and the extent to which optimism was feasible in current circumstances.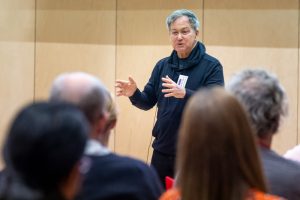 Lastly, Professor Sabel, together with Professor Kevin Morgan and Professor Ian Rees Jones, met with members of The Independent Commission on the Constitutional Future of Wales.  The commission's remit is to "consider and develop options for fundamental reform of the constitutional structures of the United Kingdom… and to consider and develop all progressive principal options to strengthen Welsh democracy and deliver improvements for the people of Wales".  He was welcomed by the joint chairs, Professor Laura McAllister and the Rt. Revd. and Rt. Hon. Dr Rowan Williams, who led a discussion that focused on Professor Sabel's work on Humble Government. Drawing on his work on educational reforms in Finland, the discussion ranged from electoral reform to policy change in different sectors and the potential for Wales to build a more open and deliberative form of governance based on some of the ideas and practical examples he gave.
The visit proved to be a considerable success and set in train several interesting and stimulating discussions among WISERD and sparcIspark colleagues. The hope is that the continued connection with Professor Sabel and his programme of research will lead to productive collaborations in the future in the spirit of experimental governance.