'The Global Countryside: Rural Change and Development in Globalization (GLOBAL-RURAL)' was a major research project funded by the European Research Council. The study aimed to advance our understanding of the workings and impact of globalization in rural regions through the development and application of new conceptual and methodological approaches.
Globalization has a pervasive influence in transforming rural economies and societies, with implications for the major societal challenges of environmental change and resource security. However, in comparison to studies of the global city, relatively little research has focused on the 'global countryside', and existing research lacks integration. GLOBAL-RURAL developed an integrated perspective by drawing on relational analysis (and particularly the approaches of 'assemblage theory' and 'countertopography') to focus on the actual mechanics by which rural localities are 're-made' through engagement with globalization processes, examining the mediating effect of national and regional context and the opportunity for local interventions.
The project, which started in February 2014 and ran until January 2019, has a dedicated website: www.global-rural.org which presents Global-Rural research via articles, presentations and story maps, which are interactive stories representing case studies from across the world.
Global-Rural Story Maps include: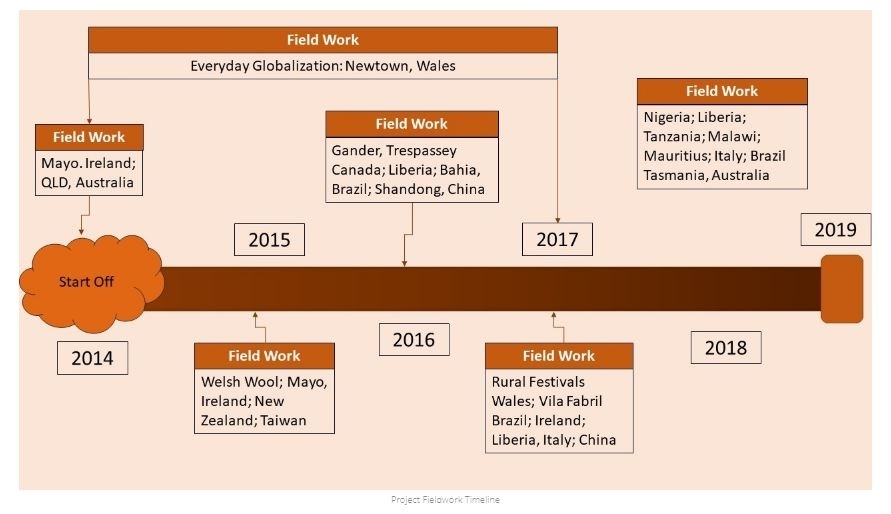 The 5 Global Rural work packages were:
Work Package 1, (Re-)Assembling the Global Countryside, focused on developing the methodological and conceptual application of assemblage theory to analysis of the reconstitution of rural places in globalization. It examined questions about the significance of globalization in changing the material and expressive composition of rural places and their territorialisation, as well as about the performance and discursive representation of globalization in rural space, and explored historical antecedents of contemporary globalization-led restructuring. This was  done through research in six illustrative case study regions in Newfoundland (Canada), Norrland (Sweden), North Island (New Zealand), Queensland (Australia), Wales (UK) and the West of Ireland.
Work Package 2, Mapping and Narrating the Global Countryside, applied GIS techniques to map globalization processes and networks impacting on rural localities, and constructed narratives of globalization impacts and responses to rural regions. Quantitative data compiled from existing datasets were  analysed through GIS to map and interrogate global flows, networks and structures crossing rural space (e.g. agri-food commodity chains, corporate networks, labour and amenity migration flows), both at global scale and in more detail for selected case studies. These data were additionally be combined with both qualitative and quantitative data collected through field research in WPs 1, 3, 4 and 5, to construct multi-media 'narratives' using text, maps, photographs, film, audio files and geovisualisations to tell 'stories' that illustrate particular aspects of globalization and community impacts and responses. These are presented on a high-quality website (www.global-rural.org) aimed at promoting public understanding of globalization in a rural context and at providing resources for policy-makers, practitioners, NGOs and community groups.
Work Package 3, A Countertopography of Everyday Globalization, explored the practices and experiences of everyday globalization in a rural small town through an in-depth study of Newtown in mid Wales. The research examined the routine global engagement of the town and its residents through business investment and trade, travel, migration, consumption, culture and social networking. WP3 charted the dynamics and articulations of everyday globalization in Newtown over the past five decades, examined their impact on the configuration of social relations within the community, and on perceptions of place and local identity, and explored the material and imagined connections between Newtown and the wider world. A parallel historical study of Newtown's global networks between 1860 and 1960 was  undertaken by a linked PhD student. You can follow progress of the Newtown research on a dedicated blog, Assembling Newtown.
Work Package 4, Differential Global Engagements in Emerging Rural Economies, applied the assemblage methodology developed in WP1 to analysis of the differentiated global engagement of rural communities in emerging economies in Africa, Asia and South America. It addressed questions about how trajectories of rural development are influenced by global processes and networks; the significance of national policies and institutions and regional contexts in mediating the global engagement of rural communities in the global south; how global agri-food, conservation and tourism assemblages enrol rural localities in transnational networks, and how these are articulated as topographical relations of power and inequality; and the capacities of local actors to intervene in globalization processes in the rural global south and to mobilize alternative assemblages for global engagement. The work package involved case study research in Brazil and China in liaison with local partners. A linked PhD student undertook a parallel ethnographic study in Tanzania.
Work Package 5, Rural Assemblages and Grounding Global Challenges, examined the contested implementation in rural localities of schemes to address 'global challenges' such as climate change, food security, energy stability and water supply, including renewable energy projects, mining and gas extraction, new reservoirs, biofuel cultivation and agricultural developments such as GM crops and 'super-diaries'. The siting of such projects commonly involves functional representations of rural space that fail to acknowledge embedded local discourses of rurality, thus generating conflicts. The research drew on assemblage theory to analyse such conflicts as struggles between global and place-based assemblages, with case study research in Wales (focused on conflicts around windfarms, biomass and hydro-electric projects, GM crops and super-dairies), Australia (focused on struggles over shale gas extraction and water resources), Brazil (focused on land conversion for biofuel cultivation), and Spain or Portugal (focused on wind and solar power, water supply and irrigation, and industrial glasshouse agriculture).