Mae'r cynnwys hwn ar gael yn Saesneg yn unig.
Climate change has become one of the most pressing issues facing policymakers across the globe. The topic has received increased attention in the United Kingdom in the past few months because the COP26 summit on climate change has now started in Glasgow and will run until November 12th.
COP26 is the 26th meeting of the Conference of Parties, in which (heads of) governments, trade unions, businesses, NGOs and faith groups meet to review global action on climate change. Key findings from reports about climate change such as the recently released Intergovernmental Panel on Climate Change (IPCC) report will be presented to policymakers at the conference.
Concerns about global warming and the increasing frequency of extreme weather events also apply in countries that have not thus far been, or are expected to be, directly affected by the most severe effects of climate change. This is because, in addition to the need for an international approach to combatting climate change, there has been and will continue to be an increase in refugees escaping from areas experiencing adverse weather conditions.
The Welsh Government declared a climate emergency in 2019 and has committed to achieving a carbon neutral public sector by 2030 and to co-ordinating action to assist other parts of the economy move away from using fossil fuels. So, it's important to find out how people feel about climate change across the UK. In this blog post, I'll be examining responses from the British Social Attitudes survey.
The responses give a fascinating snapshot of how knowledge about climate change has spread in recent years: in 2011 6.7% of respondents did not believe climate change was taking place but this had fallen to only 3.7% by 2019. The proportion of respondents who believe that climate change is taking place but is not man-made also fell over the course of these eight years, from 15.6% to 9.8%.
There has also been a decrease in the small percentage of individuals who did not know or refused to answer this question. As a result, the percentage of respondents who thought that climate change is taking place and is man-made increased by over 9 percentage points between 2011 and 2019 from just over 76% to almost 86%.
Regional differences in attitudes towards climate change are reported in Table 1. It shows that a relatively low percentage of respondents who were interviewed in Wales between 2011 and 2019 thought that climate change is taking place and is man-made.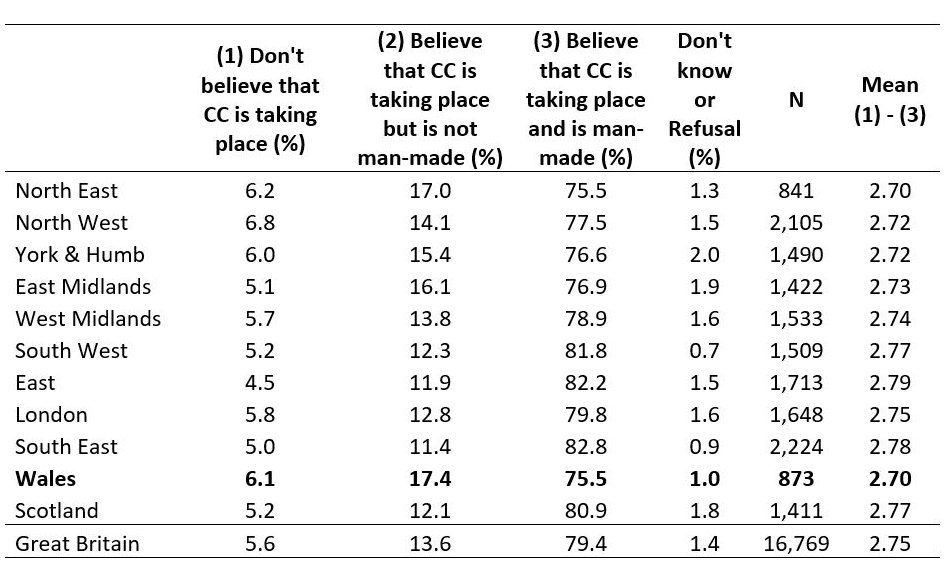 Table 1: Attitudes Towards Climate Change (2011-19) by Region
In particular, slightly over three quarters (76%) of individuals living in Wales reported such a view, which was the joint lowest along with the North East. This was over 7 percentage points less than the South East and over 6 percentage points lower than the East and South West.
Over 17% of respondents in Wales reported that they believed climate change is taking place but is not man-made, which was the highest percentage observed in any region, making Wales the most sceptical country in Britain when it comes to climate change.
Read my next blog post to find out how attitudes to climate change also differ according to people's characteristics such as gender, age and educational level, which in turn will also affect regional differences to a certain extent.
Photo by Centre for Ageing Better from Pexels.