Mae'r cynnwys hwn ar gael yn Saesneg yn unig.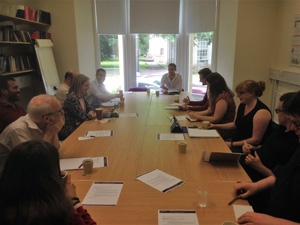 The Housing Network brings together researchers and research organisations in the field of housing in order to advance housing studies in Wales and beyond. The latest meeting, which was held on 15th June 2016, included participants from a number of leading universities, government, the public sector, and voluntary organisations.
Research updates were given from academics and practitioners on current and upcoming work spanning diverse fields such as architecture, design, economics, geography, health, housing and homelessness policy, law, planning, psychology, and sociology. The topics discussed included: housing research and 'big data' analysis, developments in homeless legislation, housing provision for those fleeing domestic abuse, housing policy and Black and minority ethnic communities – as well as housing pathways for older people. Network members also discussed the potential for future collaborative research bids and an upcoming conference on Housing Data scheduled to take place at Cardiff University in the autumn.
The Network meeting also considered the Welsh Housing Research Library. This online resource provides a unique point of reference for anyone interested in Housing research about Wales. Publications have been categorised under the following themes: housing policy, homelessness, tenure-based studies (home ownership, social renting, private rented sector), housing markets and stock condition, management and regulation, housing, health and well-being, housing and regeneration, antisocial behaviour and crime, migration, equality and diversity, childhood, youth and ageing, welfare, and research methods and theory.
The Housing Network is Chaired by Dr Peter Mackie, Senior Lecturer in Housing at Cardiff University, with administrative support from WISERD. Network membership is broad and inclusive and any researcher undertaking housing research in Wales is encouraged to contact the Chair regarding network membership. Please email Pete Mackie (MackieP@cardiff.ac.uk) or Tina Woods (Woodst1@cardiff.ac.uk).