Mae'r cynnwys hwn ar gael yn Saesneg yn unig.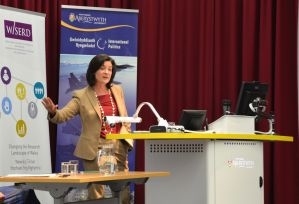 Baroness Eluned Morgan AM delivered a keynote speech on Brexit at Aberystwyth University last night. Joined by members of the public, the Labour Assembly Member for Mid and West Wales discussed one of the defining political issues of our time, surveyed the political landscape after last year's referendum vote, and asked whether anything positive can come out of the UK's decision to leave the EU.
The St David's Day lecture was organised by the WISERD Centre for Welsh Politics and Society (WISERD-CWPS), which opened in January this year. As an interdisciplinary research centre, it aims to develop an understanding of contemporary politics and society in Wales, and contribute to public policy debates.
The lecture drew upon Baroness Morgan's extensive experience of Welsh and European politics. In 1994, Eluned Morgan was the youngest member to be elected to the European Parliament and she served as an MEP for three full terms. After stepping down as an MEP in 2009, she joined the House of Lords as Baroness Morgan of Ely in 2011 where she is Labour's shadow spokesperson for Wales. Since May 2016, she has been as a regional member for Mid and West Wales in the National Assembly for Wales.
Professor Michael Woods from the Department of Geography and Earth Sciences at Aberystwyth University and Co-Director of WISERD-CWPS said: "Over the course of the year, we are planning a series of public talks and events looking at significant issues in Welsh politics and society."