Mae'r cynnwys hwn ar gael yn Saesneg yn unig.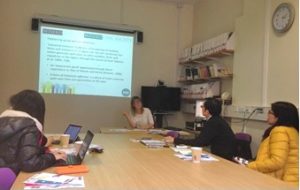 WISERD has hosted five visiting international research fellows led by Professor Lin Xiao from the Institute of Sociology at the Chinese Academy of Social Sciences (CASS), Beijing. The visit is part of a two year joint Chinese Academy of Social Sciences/British Academy Newton Advanced Fellowships programme, entitled: 'Improving Social Welfare System in China: Urbanization, Community Development, and Social Participation'.
During their time at WISERD, the visiting fellows engaged with a series of presentations from WISERD researchers working on the ESRC-funded Civil Society Research Programme. The aim of this international engagement is to build links and further collaboration. To this end, the visit allowed participants to explore the potential for ongoing work exploring welfare development in China and Wales/UK.
In the Chinese case, the backdrop to this research focus is rapid urbanization and marketization, accompanied by unbalanced economic and social development both between and within cities. In turn, this presents a number of challenges including social justice and sustainable development, and the establishment and improvement of social welfare. In this regard there are key links with WISERD's existing research on civil society.
During the CASS visit a number of common research challenges were identified that are shared by the Chinese and Welsh/UK contexts. These include the developing role of the community as an important part of the social welfare system, particularly in providing care and support services to older people. Notwithstanding central government's attempts to develop this aspect of social policy in the wake of the transformation from a planned to market economy, welfare development in China faces a number of challenges.
This resonates with the rise of 'welfare pluralism' in the UK. In other words, the situation whereby state services are complemented by input from other sectors. In the case of Wales, this has seen government emphasis on third sector provision of welfare. A development that has been underpinned by a series of legislative and policy measures – including the Social Services and Well-being (Wales) Act (2014) and the Welsh Government's voluntary sector partnership scheme. This and other aspects of social research will be to the fore as the fellowship collaboration continues in the new year with Cardiff-based researchers visiting Beijing.