Mae'r cynnwys hwn ar gael yn Saesneg yn unig.
Poverty and the rise of food banks in Wales were the focus of research shared at WISERD's latest Civil Society seminar, held at Cardiff last night. PhD student, David Beck and Dr Hefin Gwilym from Bangor University's School of Social Sciences presented findings from their research exploring the experience of food poverty in Wales.
Representatives from Cardiff Foodbank, The Trussell Trust, Oxfam Cymru and The Wallich came together with academics to find out more about the rise of food banks in Wales and the accounts of both volunteers and users.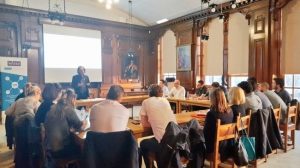 Mr Beck and Dr Gwilym discussed the experience of food poverty being tracked using two methods – the growing number of food banks across the UK, and the 'felt' experience and understanding of food poverty by service providers and service users. Their work highlights how the growth and experience of food poverty has been marked by the presence, use and proliferation of food banks.
The first Welsh food bank opened in Newport in 1998 followed by the opening of the Prestatyn food bank in 2005. The Trussell Trust operates the UK's largest collective network of UK-based food banks, and 2008 saw the opening of their first food bank in Wales. By the end of the Labour Government in 2010 food banks had grown to a total of 16. The change of government also brought about changes in the way welfare is administered, as a result, poverty rose and so did the number of food banks. Between June 2010 and December 2015 the number of food banks grew by 141, bringing the total number to 157 throughout Wales alone.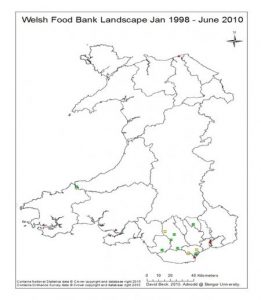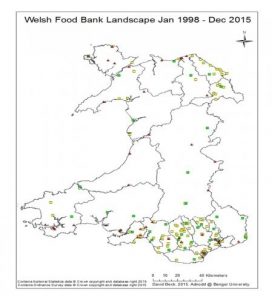 Dr Hefin Gwilym shared recently completed research comparing the voting patterns in the EU referendum and the prevalence of food banks, which showed that provision and usage of food banks does not follow a pattern of Brexit voting in Wales. The seminar highlighted the implications of voluntary welfare provision becoming increasingly institutionalised and replacing more traditional state approaches, and what the future could hold for a welfare state post-Brexit.
Questions covered the importance of a clear definition of foodbanks, what can be done by the Welsh Assembly government to address the issue, and how the increase in food prices and the lack of skills to prepare food relate to the increase in food banks.
The event also provided an opportunity to donate to the Cardiff Foodbank and we would like to thank everyone who contributed.