Mae'r cynnwys hwn ar gael yn Saesneg yn unig.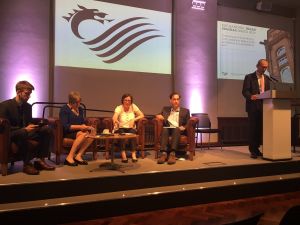 On 27th June, WISERD Co-director, Professor Paul Chaney discussed the third sector's relationship with the state with a mixed audience of assembly members, policy-makers, practitioners and members of the public, at the Pierhead Building in Cardiff Bay, as part of the National Assembly for Wales's Exchanging Ideas seminar.
He argued that issues of voluntary sector independence have been a consistent challenge since the emergence of Welsh institutional structures back in 1946. In making his case he pointed to historical examples of the language used by the third sector representative body over the decades. For example, from 1948: "The new Council of Social Service for Wales and Monmouthshire is an independent body… [with a] desire to understand Wales with its special and traditional problems' (CSSWM, 1948, p. 7);[1] "It cannot be over emphasised that the Council is an independent body … Whilst gratefully accepting the help and encouragement from statutory sources, the Council must be always be free to express its opinion objectively on any matter of public interest" (CSSW, 1969, p.9);[2] and "The WCVA [Wales Council for Voluntary Action] is not a Quango, It is an independent institution … which resists any monopolistic tendencies in statutory agencies to take over, control or manipulate the voluntary sector" (WCVA, 1984, p.8).[3]
He went on to emphasise that the sector's independence links to "welfare pluralism" or the delivery of social services by a mix of providers from the state, civil society, and the private sector. His WISERD research shows how the welfare role of civil society in Wales pre-dates that of government. However, he outlined how, over the post war decades, the state has placed increasing emphasis on the third sector as a key partner in service delivery. Whilst this presents opportunities, it also presents challenges to the independence of the sector, Professor Chaney said: "The current Welsh Government Third Sector Scheme notes that 'We recognise that quality of life cannot be delivered by the state alone, and we need to capitalise and build on community action and volunteering'".
The WISERD research underlines how it is important for government to listen to the views of third sector organisations (TSOs) and to refrain from imposing its agenda. Professor Chaney concluded: "it needs to be a two-way relationship where the third sector is encouraged and provided with adequate resources and institutional arrangements in order to deliver services that reflect the values and priorities of TSOs. In this regard, devolution has seen some positive progress – but the current era of austerity has increased the threats posed to the independence sector – not least, funding cuts have limited the sector's capacity to monitor policy and engage in the work of government."
---
[1] Council for Social Services in South Wales and Monmouthshire (1948) Annual Report, Cardiff, CSSWM.
[2] Council for Social Services Wales (1969) Annual Report, Cardiff, CSSW.
[3] Wales Council for Voluntary Action (1984) Annual Report, Cardiff, WCVA.