Mae'r cynnwys hwn ar gael yn Saesneg yn unig.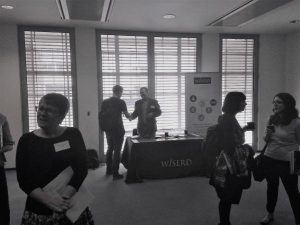 Work from WISERD's Civil Society Research Programme featured prominently at the National Council for Voluntary Organisations (NCVO) Annual Conference in Nottingham, September 7-8. The WISERD stand (pictured) did brisk business with high levels of interest from conference-goers.
Dr David Dalimore (WISERD, Bangor University) gave a paper on 'Place, Belonging and the Determinants of Volunteering'. This presented findings from an ethnographic project with Professor Howard Davis, Dr Marta Eichsteller and Dr Robin Mann. It is exploring how local associational life is changing, whether structural factors remain important, and whether volunteering is becoming disembedded from place. In other words, how people socialise in their local communities or link together in other ways – such as via social media. Amongst the key findings is that local voluntary association remains important in forming bridges between people in places and wider society. However, differing notions of belonging mean that localities are not equal when it comes to acting as 'hubs' or centres of volunteering and sociability. The authors argue that this is an important factor that policy-makers need to understand when planning local public service delivery.
Dr David Beel (WISERD, Staffordshire University) delivered a paper entitled 'Connected growth: developing a framework to drive inclusive growth across a city-region. Based on work with Professor Martin Jones (Staffordshire University) and Professor Ian Rees Jones (Cardiff University), the paper addressed the (re-)positioning of civil society within the new governance structures of the city region in Greater Manchester. Based on extensive semi-structured interviews with key actors across the Greater Manchester city region, the paper illustrated how this has created several significant tensions and opportunities for civil society.
Professor Paul Chaney (WISERD, Cardiff University) presented a paper entitled 'How do 'Sub-state' Third Sector Systems Emerge in 'Union States'? The Case of a 'Regional' European Polity and the 'Three Spheres' Model'. Based on work with Dr Christala Sophocleous and Professor Daniel Wincott (WISERD, Cardiff University) this paper proposed a general model of the territorialisation of the third sector, in other words how 'regional' voluntary sector systems emerge and develop. It considered the interaction of key ('contingent') factors' spanning governance, organisational and socio-economic/ political domains. It presented a case study of developments in Wales (1930s- present) and, drawing on different strands of theory (neo-institutionalism and critical realism), it charted a series of key historical moments ('critical junctures') through which a local voluntary welfare organisation morphed into the national Welsh co-ordinating body. The empirical data from this case study were then used to develop the 'Three Spheres' Model' designed for exploring the development of the voluntary sector in other contexts and territories.