Mae'r cynnwys hwn ar gael yn Saesneg yn unig.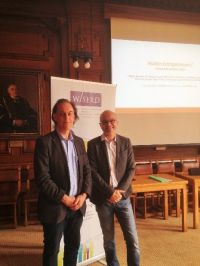 On May 12th WISERD was pleased to welcome Professor Filippo Barbera (University of Torino and Collegio Carlo Alberto) who gave the latest seminar in the WISERD Civil Society series. Chaired by WISERD Co-Director Prof Paul Chaney, his interesting and well-attended presentation explored the role of "social innovators" in Italy. Drawing on a qualitative research design those attending heard how respondent-driven sampling (including network analysis) can provide rich insights into the connections between the not-for-profit sector and for-profit sectors.
The focus of Professor Barbera's research is timely because, as the seminar revealed, social innovation points to new kinds of production and exchange markets where profit and non-profit organizations interact in distinctive ways. Research findings from the Italian analysis reveal how many of the most successful innovators have learned to operate across sectoral boundaries. Furthermore, they show how innovation thrives most when there are effective alliances between small organisations and entrepreneurs. Overall, Professor Barbera's work critiques the contemporary trend of portraying social innovation purely as a functional reaction to market and state failure. In doing this it engages with the challenge of understanding whether social innovation practices satisfy supposedly unmet needs in new ways – and whether such interaction really differs from market-like exchange.
A leading European scholar, Professor Filippo Barbera's research interests include economic sociology – including sociological analysis of production markets – and regional and local development. He was Secretary of the Italian Sociological Association – leading on 'Work, Economy and Organization' (2010- 2012), and a member of the Editorial board and co-editor (2007-2009) of the academic journal "Sociologica". He has held a series of prestigious visiting fellowships – including at Nuffield College, Oxford and the Institute for European Studies at Cornell University. He has published widely in leading international academic journals including: International Review of Sociology; and American Behavioral Scientist.
The next WISERD Civil Society Seminar is: The Power of Language – The Language of Power with Professor John Edwards, St Francis Xavier University on 17th May 2016 (1pm) at Aberystwyth University.
More Information:
WISERD Civil Society is an ESRC research centre, undertaking a five year, multi-disciplinary programme of policy relevant research addressing Civil Society in Wales, the UK and Internationally.